W KLASACH I-III

21 marca, dzień rozpoczęcia astronomicznej wiosny związany jest z końcem zimy i przebudzaniem się przyrody do życia. Miał on przez wieki ogromny wpływ na ludzi. Jeszcze z czasów pogańskich pochodzi święto wiosny o nazwie "Jare" - bogate w obrzędy powitania wiosny. Niektóre z tych obrzędów, np. topienie Marzanny znane i praktykowane są do dzisiaj. Także malowanie jajek, czy śmigus-dyngus utożsamiane dzisiaj z Wielkanocą związane są z obrzędami Słowian. Jajko było symbolem życia, a oblewanie wodą symbolizowało pozimowe oczyszczenie i w pewnym sensie dawało sygnał "skończyła się zima, już można szaleć".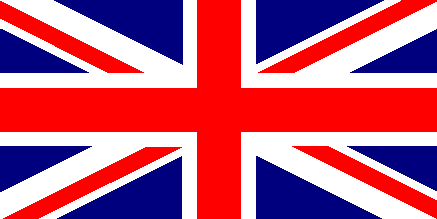 21st March is celebrated as the first day of astronomical spring and it is related to the end of winter and awakening of Nature to life. It has had an enormous influence on people for ages. In old pagan times people celebrated the holiday of spring called Jare. It was rich in rites welcoming spring. Some of these rituals are known and practised nowadays. One of them is called drowning of Marzanna (Marzanna is an effigy made of straw, it is put on water and as it is swimming away it takes winter with it). Eggs painting and smigus-dyngus (pouring water mostly on girls on Easter Monday) identified and associated with Easter also have Slavic roots. Egg symbolises new life. Smigus ­ dyngus is a symbol of clearing our souls and it gives us a sign that winter is over and we can go crazy.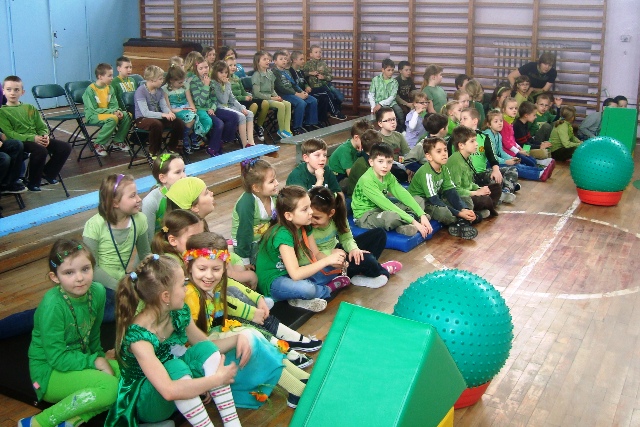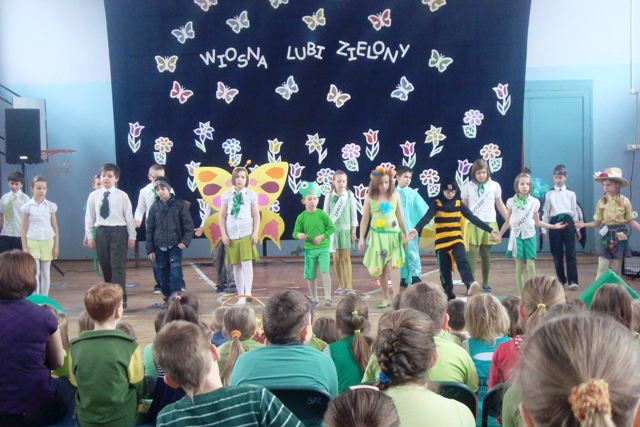 Nasi uczniowie także postanowili powitać wiosnę, tym razem bez obrzędu topienia Marzanny (z powodów ekologicznych), przygotowanym programem artystycznym, w wykonaniu klasy III c, pod kierunkiem Pani Haliny Bednarz i Pani Haliny Kolasińskiej. Tego dnia uczniowie klas młodszych ozdobili swoje ubrania zielonymi elementami, symbolem przyrody budzącej się ze snu zimowego. Tak przygotowani uczestniczyli w barwnym przedstawieniu. Następnie wzięli udział w warsztatach plastyczno-muzycznych, których efektem były mini-galerie plastyczne oraz wspólne koncertowanie piosenek o tematyce wiosennej.
Our students also decided to welcome spring. This time we made a decision to avoid drowning Marzanna mostly because of ecological reasons. That is why the artistic program was prepared by Mrs Halina Bednarz and Mrs Halina Kolasinska and performed by students of 3rd grade (class III c). This performance was devoted to spring so younger students decorated their clothes with some green elements symbolising Nature which is awakening from hibernation. Then they took part in art and music workshops which ended in singing songs about spring and organising mini art galleries.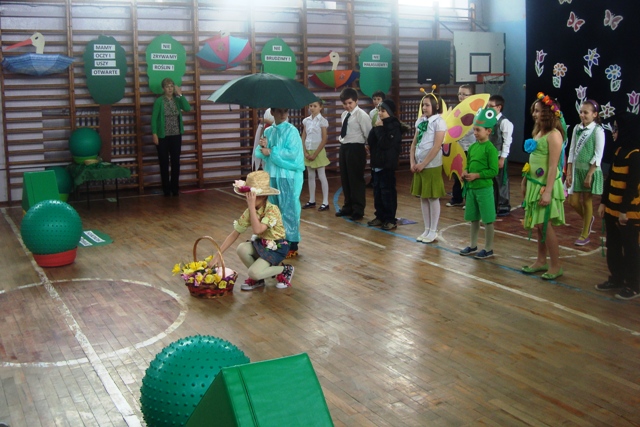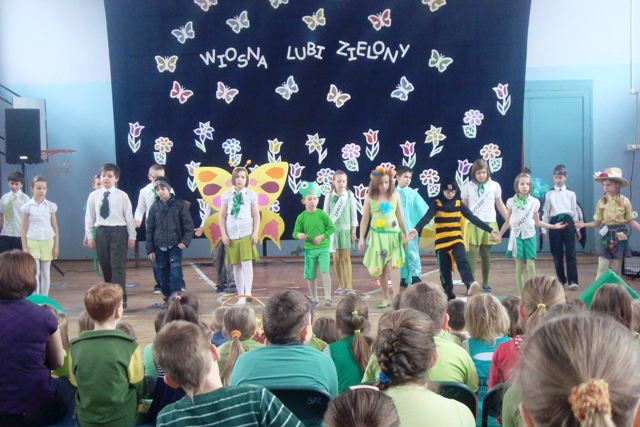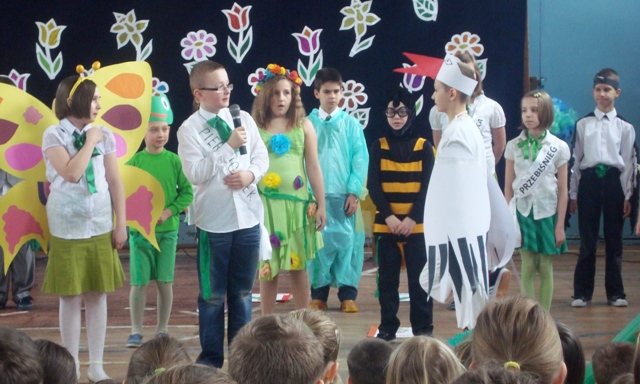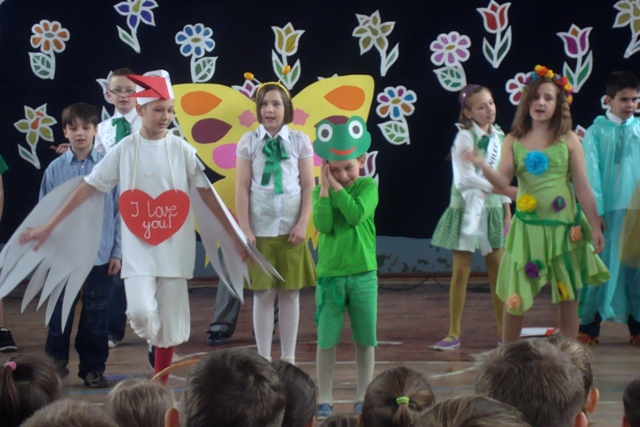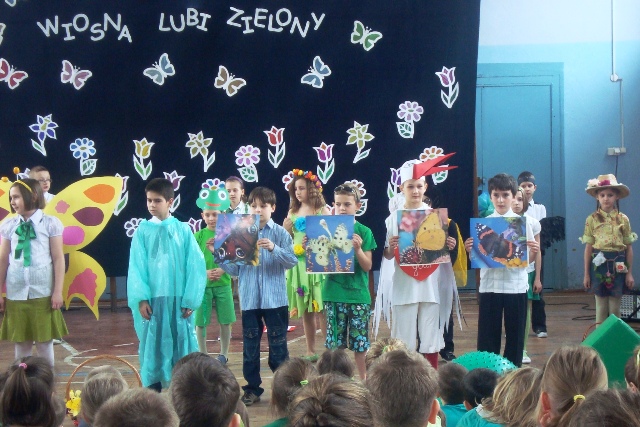 Podobnie świętują pierwszy dzień wiosny jak nasi koledzy z zaprzyjaźnionej szkoły w Sofii (Bułgaria). Ich święto wiosny nosi nazwę Baba Marta.
Similarly, the first day of spring is celebrated by our friends from Sofia (Bulgaria). Their celebration is called Baba Marta.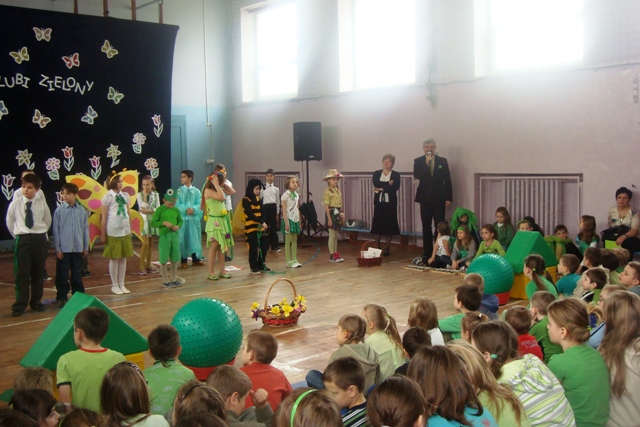 Iwona Kucharek